Aug 12 2018
To celebrate the 20thanniversary of QAGS, Hex Games has released the fantasy detective story The MarmiCon Conundrum.
Occult detective Ross Fulton and his assistant Ted have come to Indianapolis for MarmiCon, the largest gaming convention in the Midwest. Ross and Ted have to track down the elusive Franklin Fletcher, a game designer, con man, and Enochian mage, but they soon learn they're not the only ones on his trail. Now Ross and Ted must outwit their rival, find Fletcher, and figure out why portals to other worlds are opening up throughout the convention. Plus, there's the nagging question—what is Gotterdammerung Opus Maximus, the so-called "Ultimate Game"?
The MarmiCon Conundrum is an all-new novella that pays homage to the rich history of Hex Games, but you don't need to know anything about Hex to enjoy the story. QAGS character stats are included, so you can run your own MarmiCon Conundrum RPG adventure.
The QAGS Qik Start Rules, as well as other games such as Hobomancer, Fratboys Vs., The Adventures of Sindbad, and Weird Times at Charles Fort High, are available at www.hexgames.comand at many RPG PDF sales sites.
The MarmiCon Conundrum is written by Leighton Connor, the co-founder of Hex Games, with a cover by Joshua LH Burnett.
Apr 1 2018
Did you know that an angel wrote a history of the future on a series of silver tablets, and buried them in Alaska? That one of Jimi Hendrix's guitars can shoot fire? Or that the cloak of World War II-era crimefighter Fighting Yank can still be used to summon the ghost of his ancestor? If you didn't, don't feel embarrassed; most people are unaware of America's rich occult history. But now, after years of research, we are prepared to share these and other marvels.

American Artifacts 3 gives full descriptions of 20 magical items uniquely suited to the New World. Some are rock solid, like the Molly Stone, while others are intangible, like the Lonesome Whistle; some, like the Black Bell, played an important role in history, while others, like the Ralston Rocket, have been forgotten by all but the most erudite. 

All 20 artifacts are suitable for use in a wide variety of games. Each entry includes a description of the artifact, background information, and game mechanics. Though this book completes the American Artifacts trilogy, you do not need to have read either previous book to use this one.

American Artifacts 3 is 100% made in America, edited by Leighton "Cincinnati" Connor and Carter "Nashville" Newton. 
Nov 13 2017
For nearly two decades, one name has always stood apart in the field of Fantasy Adventure Role-Gaming: Qerth. After countless glorious Journeys into the Imagination™, though, Hex Games had to step away from Qerth for a bit. Let's just say that we were resting; the rumors of lawsuits and vicious in-fighting are complete fabrications, and besides, the lawyers won't let us say anything, so why not just pretend it didn't happen? The important thing is that, at long last, Hex Games has returned to Qerth with the first in a new series of guides, The Comprehensive Soldier.

In the magical fantasy world known as Qerth, there are many Jobs, ranging from the flashy Cheesemaker, to the versatile Murderer, to the useless Knome. But one Job stands apart, central to the very fabric of the world yet often overlooked. We speak, of course, of the Soldier. The Soldier may seem boring at first glance, but take another look. Sometimes it's refreshing to get inside the head of someone with the Soldier's simple clarity of purpose: he just wants to kill some things and take their stuff. Deep down, isn't that really what we all want? 
May 14 2017
Candyland Has Fallen
Game ID: RPG17103316
System: QAGS
Date: 8/17/2017
Time: 10am-2pm
Location: JW Marriott 201 Table 1
Sweetness and light couldn't save them. Rainbows and cute cat videos were powerless. Now the ultimate evil-mancer rules in Candyland. Unless.... Well, when the good can't help, it's time to turn to the naughty and wicked. Suicide Squad meets Yellow Submarine meets Babes in Toyland in this desperate gamble to save Candyland from Utter Destruction.
Apr 4 2016
Hex Games has just released And One for All, a sourcebook for running games inspired by The Three Musketeers.  
It's a time and a place made for swashbuckling adventure. France has a weak king, a barren queen, a wicked first minister, a splintered populace, and enemies on every side. Into that breach step the men of the King's Musketeers. Brave men to be sure, but brave in a foolhardy way that you can't help but admire, even as you shake your head in disbelief. Still, thank God for them, because it's going to take a fool like that (or a company of them) to save the crown and the nation's honor!
Jan 4 2016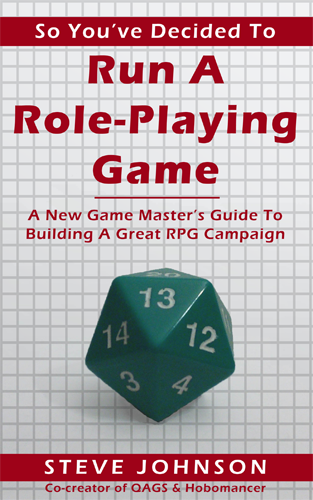 Hex Games has just released So You've Decided to Run a Role-Playing Game, a guide for aspiring GMs written by Steve Johnson. While the book is geared toward first-time Game Masters, it contains a lot of practical advice and helpful tips that even veteran Game Masters are likely to find helpful, regardless of what system they're using.  
Everybody's heard of tabletop role-playing games (RPGs), but unless you've actually played one you probably don't know how they work. Even if you're an experienced RPG player, most game manuals spend more time explaining rules and genre trappings than offering practical advice for first-time Game Masters.
Whether you're a wannabe gamer who's never rolled a twenty-sided die or a long-time player who's decided to take the plunge and run your own game for the first time, So You've Decided To Run a Role-Playing Game teaches you how to go from thinking about running a role-playing game to actually doing it. So You've Decided To Run A Role-Playing Game starts by describing what actually goes on during a role-playing game, then provides step-by-step advice for organizing and running your own RPG campaign, from finding a gaming group to plotting your ongoing story.
So You've Decided to Run a Role-Playing Game, as well as other Hex Games releases, can be purchased in PDF form at www.hexgames.com, and at the finer PDF sales sites, for just $2.99. The book is also available in print and Kindle format from Amazon. 
Steve Johnson is the co-creator of QAGS (the Quick Ass Game System) and the Operations Director of Hex Games. He has written, co-written, or otherwise contributed to numerous RPG supplements, including Spooky: The Definitive Guide to Horror Gaming, Sharktoberfest, and the ENnie Award-winning Hobomancer. He writes a (more-or-less) weekly gaming blog at www.deathcookie.com. For more about QAGS  and other fine products from Hex Games, visit www.hexgames.com. 
Mar 30 2015
Hex Games is proud to announce the publication of Suicide's Run: A Tale of the Hobomancers, the first-ever novel based on the award-winning game Hobomancer. Suicide's Run is a fast-paced race that will leave the smell of coal smoke in your nose and the sound of the whistle singing in your ears. It is written by Hobomancer co-creator Carter Newton and features illustrations by Jeffrey Johnson.
A nation mired in the Great Depression elects a new president. Some men, supposedly "America's elite," fear his reforms. They have a plan to overthrow Franklin Roosevelt and replace him with a dictator they control. 
One man has the power to stop this dastardly plot. Unfortunately, after a failed suicide attempt, Jakob's woken up in a hobo camp with no way to tell what he knows. His only hope - America's only hope - are the hobomancers, train hopping hobo wizards defending the world against monsters and evil. 
In their way stand a corrupt wizard, vindictive robber barons, sadistic private eyes, and creatures who know only fire and death. The last hope to save themselves, to save the Union, and maybe the world, is SUICIDE'S RUN! 
Suicide's Run is a complete standalone novel based in the same world as the Hobomancer RPG; you do not need any familiarity with the game to enjoy the novel. For those who play the Hobomancer game, though, there is plenty of rich material that will help flesh out your game world, as well as game stats for the novel's major characters. 
Suicide's Run—as well as Hobomancer, the Hobomancer Companion, American Artifacts, and more—can be purchased in PDF form at www.hexgames.com and at the finer PDF sales sites for just $10. 

Learn more about Hobomancer at www.hexgames.com. To see more of Jeffrey Johnson's work, visit his blog at http://lifewithgirls.net/handmade-family/ and his Etsy shop at https://www.etsy.com/shop/handmadefamily.
Jul 28 2014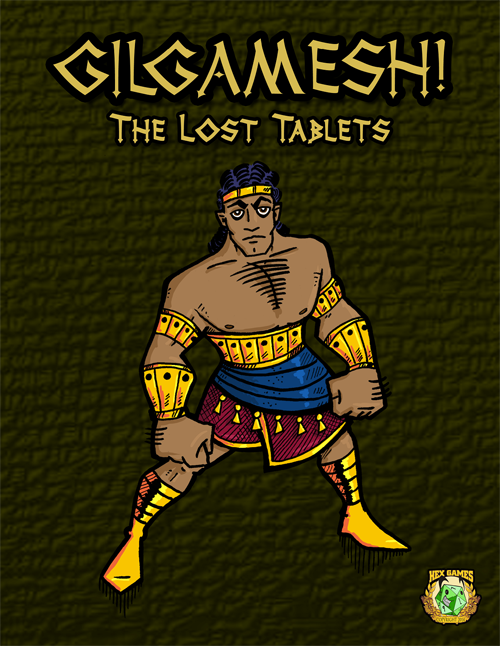 Hex Games has just released GILGAMESH!: The Lost Tablets, a companion to the 2012 release GILGAMESH!, an epic adventure based on the world's oldest epic.
If you've played the game GILGAMESH!, you know the story of the legendary Gilgamesh's quest to find the secret of immortality, and his epic journey past the ends of the world and into the realm of the gods. But now, for the first time, you can learn how Gilgamesh befriended the wild man Enkidu. Watch as Gilgamesh and Enkidu venture into the Forest of Cedar to battle Humbaba, the most horrible monster in the world! See Gilgamesh and Enkidu defend their city from the Bull of Heaven, and witness the punishment the gods rain down on them!   
GILGAMESH!: The Lost Tablets is a supplement to the adventure GILGAMESH!, which is designed for use with the QAGS Second Edition rules. The Lost Tablets gives GMs the tools they need to incorporate additional scenes into the adventure, to run a prequel game, or even to create an ongoing campaign. It includes a summary of the first eight tablets of The Epic of Gilgamesh, GM Notes for each tablet, and game stats for Enkidu, Ishtar, Humbaba, and more.
GILGAMESH!: The Lost Tablets–as well as the QAGS rulebook, GILGAMESH!, The Hobomancer Companion, and more--can be purchased in PDF form at www.hexgames.com or at other fine online vendors for just 99 cents.
The QAGS Qik Start Rules are available for download at www.hexgames.com, absolutely free.
GILGAMESH!: The Lost Tablets is written by Leighton (Beowulf Vs. Grendel) Connor and illustrated by Joshua (Bernie the Flumph) Burnett.
Jun 30 2014
For some reason our confirmation emails aren't always getting through, especially to users with Yahoo, MSN, and Hotmail email addresses. If you don't get a confirmation email, let us know via the contact form and we'll activate your account as soon as we get a chance. Sorry for the inconvenience.